A Visit From Le Gavroche
Recently, our Sunday Supper series was treated to a visit from chef Robert Guest and restauranteur David Auer, the duo behind the recent revamp of Le Gavroche. One of Vancouver's most esteemed French restaurants, the establishment has been a favourite of local diners for over 30 years. When Guest and Auer took over, they decided to keep the name while updating the concept. Le Gavroche now features a bistro-type food bar as well as a more formal dining room upstairs.
Sunday series diners were treated to a menu based on the Eleven Madison Park Cookbook. A collection of dishes that showcased chef Guest's passion for fresh, locally-based ingredients. Highlights included Avocado Roulades with Prawns and Wood Sorrel - one of several delightful appetizers - and an entree of Chicken Poached with Black Truffles, White Asparagus, Morels and Vin Jaune.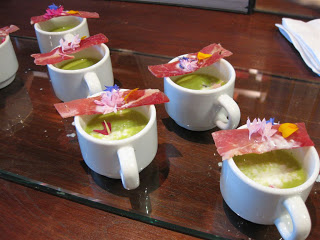 It was a lovely evening distinguished by Le Gavroche's classic philosophy that fine dining should always be a leisurely experience. Asked about his policy on reservations, Auer says: "We believe that - if you reserve a table - it should be yours for the entire evening. If you want to really enjoy your meal, you should never be rushed."